Communities of Park City


Old Town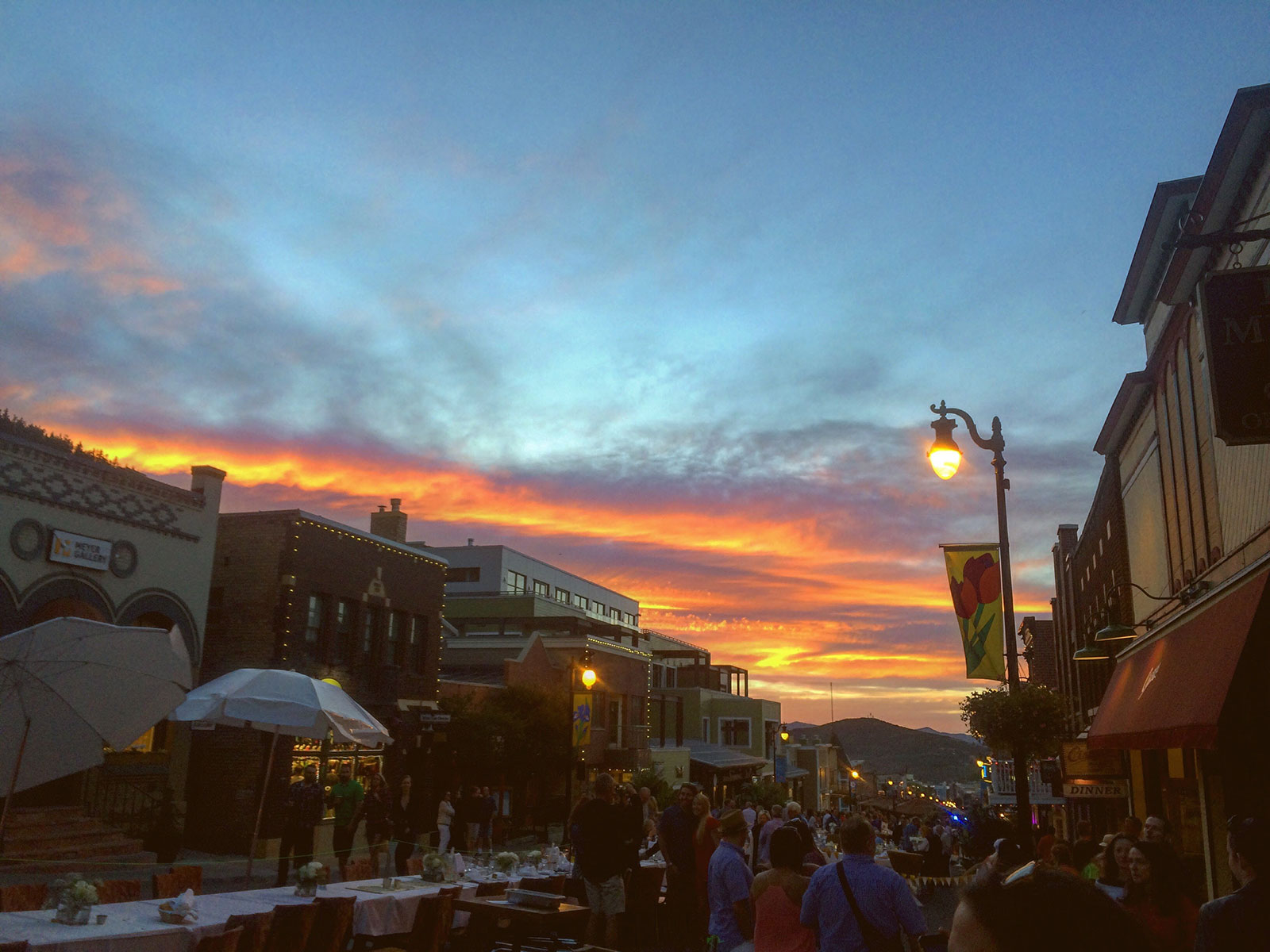 Park City's Old Town neighborhood is defined by its lasting roots and connection to the area's rich mining history. Originally platted in the 19th century, Old Town homesites are quite small and many homes are built into the steep hillsides that hug both sides of the neighborhood. Old Town encompasses most of the area from Park City Mountain Resort to the Park City Municipal Golf Course and past the charmingly quaint City Park. Largely a result of ongoing efforts toward historical preservation, Old Town has retained its small, old west mining town feel. Recent years have witnessed its growth into a vibrant, highly walkable resort town center that features enticing shopping opportunities, renowned restaurants and a multitude of nightclubs. The spectacular buildings and storied past of Old Town's legendary Historic District provide variation to area home styles and further reinforce the neighborhood's authenticity.
A particularly well-known area within Old Town is the "Gold Coast," the coveted ski-in/ski-out homes that back up onto the Town Lift runs of Park City Mountain Resort. The cozy renovated miners' cottages located near City Park, just off Park Avenue, are recognized as some of the best values in Old Town. There are a handful of apartments located in the upper levels of certain Main Street buildings, while Daly Avenue features a funky and eclectic mix of restored miners' cottages, apartment buildings and renovated bungalows.
The limited number of homesites bolsters prices and helps to ensure future value, while Old Town's ideal location solidifies demand. There are few places in the world like the sparkling gem that is Old Town Park City.
Thaynes Canyon / Aspen Springs
Situated adjacent to the picturesque white McPolin Barn, the Thaynes Canyon and Aspen Springs communities encompass the wooded hillsides and rolling meadows below Park City Mountain Resort and Iron Mountain. These neighborhoods also offer easy access to all three local ski resorts as well as the Park City Municipal Golf Course and the extensive community trail system which converts to a well-groomed nordic trail system in the winter. Some homes in Aspen Springs and Thaynes Canyon are zoned equestrian.
Both neighborhoods are close to Old Town, restaurants, retail shops, offices and the commercial center of Park City. Many of the condominiums in the area were built in the 70s and 80s, but have been recently updated, featuring amenities comparable to those in newer projects throughout town. Developments include: Three Kings, Snowflower and Payday condominiums, as well as Silver Star at Park City, which hosts a blend of luxury single-family homes, condominiums and townhomes with direct ski access via the Silver Star lift at Park City Mountain Resort.
Deer Valley
Lower Deer Valley
Lower Deer Valley properties are in great demand during all four seasons because of their ideal location. Positioned near the main base area of Deer Valley Resort, these homes and condominiums are also located within close proximity to Main Street nightclubs, restaurants and shops. The resort's Snow Park Lodge sits less than a mile away from Old Town and serves as a popular, year-round hub for outdoor activities. Nearly all properties share dramatic views of the mountain and ski slopes.
The majority of Lower Deer Valley properties are condominium projects which include: Aspen Wood, Black Diamond Lodge, Boulder Creek, Bristlecone, Chaparral, Chateaux at Fawngrove, Comstock Lodge, Courchevel, Daystar / Amber Daystar, Deer Lake Village, Fawngrove, Glenfiddich, In The Trees, La Maconnerie, Lakeside, Lodges At Deer Valley, Pine Inn, Pinnacle at Deer Valley, Powder Run, Queen Esther Village, Red Stag Lodge, Silver Baron, Stonebridge, Trails End Lodge and Wildflower. Other condominium projects located between Lower Deer Valley and Old Town include Fox Glove, Greyhawk, Portico and Sunspot. This location offers convenient access to skiing and is within walking distance to Historic Main Street.
Single-family home subdivisions along the hillsides surrounding the resort base include Hidden Meadows, Hidden Oaks, Morning Star Estates, Nordic Village, Queen Esther Village, Royal Oaks, Solamere, The Oaks at Deer Valley and Willow Brook.
Deer Crest
Park City's Deer Crest community is perched along the ridgeline and throughout the hillside at the eastern edge of Deer Valley. Most of the luxury homes, homesites and condominiums offer ski access, including private ski runs at Deer Valley Resort.
Some properties enjoy the seclusion provided by a gated entrance and feature breathtaking views of the surrounding mountains and the Jordanelle Reservoir. Residents may access the neighborhood from either Lower Deer Valley or Highway 40. Given the peaceful solitude of the Deer Crest community, it is hard to imagine that Historic Main Street is only a few minutes drive!
New to the area is the St. Regis Deer Crest, a prestigious addition to the Deer Valley market. The St. Regis offers the ultimate in slopeside comfort and sophistication in their 26 residences and 67 hotel-condominum suites. They are conveniently accessed via the unique, state-of-the-art funicular adjacent to the Snow Park Lodge or the private, gated Deer Crest entrance. Also popular is the Snowtop development, which boasts some of the most commanding views in Park City.
Upper Deer Valley
Upper Deer Valley, which includes the Silver Lake Village, is located between 6,900 and 8,100 feet in elevation, mid-mountain on Deer Valley Resort.
Residents are able to access the area by either of two options; they may drive up Royal Street from the base of Lower Deer Valley, or take Marsac Avenue up the Ontario Canyon Road.
Silver Lake Village is its own mountain community, offering local residents fantastic dining options and a handful of retail stores, including a sunny respite for skiers at the legendary McHenry's Ski Beach. Shoppers will rejoice in the Village's high-end boutiques and outdoor recreation stores, which are a short drive from the retail bliss of Main Street. Silver Lake Village food and beverage choices range from hearty apres-ski fare to refined haute-cuisine. The Silver Lake Lodge houses a number of restaurants and the Stein Eriksen Lodge offers fine dining, along with a distinguished spa and facilities for conferences or corporate retreats.
Scattered throughout Upper Deer Valley are some of the area's most beautiful mountain homes, many of which are located slopeside or within a quick walk to the ski runs. The majority of homes are within the following subdivisions: Alpen Rose, Alta Vista, American Flag, Bald Eagle Club, Bellearbor, Bellemont, Belleterre, Bellevue, Evergreen, Knoll Estates/Deer Valley Club Estates, Knollheim, Silver Lake Village, The Cottages and Willow Brook.
Hundreds of condominiums are within the following Upper Deer Valley developments: Aspen Hollow, Bellearbor, Bellemont, Bellevue, Black Bear Lodge, Cache At Silver Lake, Chateaux at Silver Lake, Deer Valley Club, Double Eagle, Enclave, Little Belle Condominium, Goldener Hirsch, Little Belle, Lookout at Deer Valley, Mont Cervin, Ontario Lodge, Ridge (at Silver Lake), Ridgepoint, Royal Plaza, Silver Bird, Stag Lodge, Stein Eriksen Lodge, Sterling Lodge, Sterlingwood, The Inn at Silver Lake, Trailside, Twin Pines at Silver Lake, and The Woods at Deer Valley.
Empire Pass
Empire Pass is Deer Valley's newest ski-in/ski-out community and is comprised of approximately 1,600-acres on the slopes of Flagstaff Mountain and Empire Canyon. Many of these magnificent luxury condominiums and homes rank among the most prestigious in Deer Valley. Residents in Empire Pass may enjoy the opportunity of being a member of the famed Talisker Club which features unparalleled amenities at the Tower Club and golf at neighboring Tuhaye.
The new Montage Deer Valley features timeless European decor, incredible views and a prime slopeside location. Refined yet authentic, the Montage offers both hotel rooms and residences. Nearby Nakoma, derived its name from the native American word that means, "I do as I promise." Indeed, with a vow to use only the highest-quality materials and best construction practices, they crafted a beautiful neighborhood of 18 homes on 17 wooded acres. Silver Strike Lodge offers a rustic and nostalgic reminder of Park City's rich mining past. Utilizing rough-hewn logs and weathered copper alongside gourmet kitchen furnishings, this ski-in/ski-out development combines authentic Old West charm and modern convenience in a breathtaking manner.
Bannerwood offers one-half to one-acre custom-build homesites, tucked away in the aspen and evergreen forest that skirts The Village at Empire Pass.
The Belles at Empire Pass is one of the newest developments in the area and offers a collection of 14 intimate single-family homes; located adjacent to Deer Valley Resort's Silver Strike lift. These properties also feature convenient access to the Northside lift. The Grand Lodge features renowned architectural design and interior accents, further proving that residents need not sacrifice luxury for an on-mountain living experience.
Prospector
Prospector is one of the more established and affordable neighborhoods in Park City and offers single-family, multi-family and condominium properties, some with distinctly Victorian-era styling. Located within walking distance of Park City High School, Treasure Mountain Middle School and McPolin Elementary, Prospector also offers easy access to the Rail Trail, Park City's popular recreational trail for bikers, runners and walkers.
The US Ski and Snowboard Association's "Center of Excellence" sits just down Kearns Boulevard, as do the National Ability Center, Park City Ice Rink and rambling trails of Round Valley. Also situated off of Kearns Boulevard is the stunningly designed Park City Medical Center, home to 24-hour emergency service, six state-of-the-art operating suites, family and internal medicine, orthopedic and general surgery, cardiac care, pediatrics, obstetrics, gynecology, radiology and imaging. Prospector home owners have the added convenience of neighboring restaurants, retail stores and professional buildings, and commuters appreciate the area's quick access to Highway 40.
Park Meadows
The majority of Park Meadows' residents are primary homeowners, although second-home owners are discovering that the neighborhood's sweeping views, convenient location and cohesive feel make for a great off-mountain alternative.
Park Meadows flows from the flanks of Quarry Mountain past the emerald links of the Park Meadows Country Club and climbs through the scattered sage and scrub oak of the slopes next to Round Valley. The east end of Park Meadows is home to the Park City Racquet Club, which offers a pool, tennis courts and popular fitness facilities. Park Meadows backs up to the newly renovated Park City High School as well as Treasure Mountain Middle School and McPolin Grade School all located on Kearns Boulevard, providing safe, easy access to area schools.
This popular neighborhood offers a diverse selection of single-family homes and condominiums. Demand is high for what little vacant land remains in the area. Residents enjoy Park Meadows due to its superb location, easy access to amenities and spectacular mountain views. Some of the more prominent subdivisions within Park Meadows include; Eagle Pointe, Meadows Estates, Risner Ridge, Ridgeview, Holiday Ranch Estates, Fairway Meadows, West Ridge and Fairway Hills Estates. Condominium and townhome properties include Last Sun at the Cove and the Racquet Club among others.
Canyons
The Canyons area offers a wide variety of property types from which to choose, including single-family homes, condominiums and townhomes. Developers recently broke ground on the resort's golf course, adding another valuable recreational amenity. Single family home subdivisions include: The Colony, The Vintage on the Strand, Park West Village, Timberwolf Estates, White Pine Canyon and White Pine Ranches. The Colony is an award-winning 4,600 acre, private, gated, ski-in/ski-out community that features large private homes and homesites averaging six acres. Its winning combination of natural beauty, size, privacy and skiing at Canyons Resort attracts some of the most discerning buyers.
Condominiums account for many of the properties within the Canyons area.
Specific developments include: Hyatt Escala Lodge, The Vintage on the Strand, Waldorf Astoria Park City, Fairway Springs, Hidden Creek, Park West, Juniper Landing, Park West Village, Red Pine, Silverado Lodge, The Sundial Lodge, Sunrise at Escala, Timberwolf Lodges and Village Round.
The Olympic Park area is located just north of the Canyons area and features easy access to Park City and Salt Lake City. Developments within the Olympic Park area present a diverse range of housing options, from cozy cottages to high-end homes.
Subdivisions here include: Cedar Draw, Mahogany Hills, Sun Peak and Willow Draw Cottages. Two planned communities, Bear Hollow Village and the Cove at Sun Peak, offer single-family homes, condominiums and townhomes. The south end of the Olympic Park area is primarily composed of single-family homes and offers desirable amenities including a clubhouse, tennis facilities and a pool.
Silver Springs
Conveniently located between Historic Old Town and Kimball Junction communities are the interconnecting neighborhoods of the Snyderville Basin. Single-family homes comprise the majority of Snyderville properties, which enjoy the Basin's flat topography, spectacular mountain views and easy access to community trails, parks and ponds.
Situated next to the expansive open space of the Swaner Nature Preserve is the Ranch Place neighborhood, while the nearby North Shore and South Shore neighborhoods back up to a community pond. Snyders Mill is a great family subdivision and affords potential buyers some of the best home values in all of Park City.
Old Ranch Road
The Old Ranch Road area affords residents the opportunity to escape the hustle and bustle of Park City's busier corridors, while remaining close to local amenities and recreation opportunities. A majority of the single-family homes and ranches that dot this wide open space are zoned for horses, which are often ridden on the nearby Round Valley trail system. The entire Old Ranch Road area enjoys incredible panoramic views of Canyons Resort, in addition to vistas of the adjoining Swaner Nature Preserve. Subdivisions include: Shadow Mountain, Treasure Mountain Estates, Quarry Mountain Ranch and Willow Creek Estates.
Kimball Junction
Located at the junction of Interstate 80 and Highway 224, Kimball Junction is an additional commercial center for residents of Park City. Touting a diverse mix of condominiums and single-family homes, the area features easy commute access and a multitude of local amenities. The Junction's Redstone and Newpark developments are home to two grocery stores, movie theaters, a bowling alley and a growing number of shops and restaurants. Just down the road is the Tanger Outlet Mall, and nearby recreation venues include the Basin Recreation Field House and Swaner Nature Preserve and Eco-Center.
The Kimball Junction area is included in the top-ranked Park City School District and is a popular choice for Salt Lake City and Park City commuters. The community's single-family home subdivisions are all located on the north side of I-80 and include: Blackhawk Station and Spring Creek. Condominium and townhome complexes include: Canyon Creek to the north of I-80 and Crestview, Fox Point at Redstone, Newpark Hotel, Newpark Resort Residences, Trout Creek and Powderwood.
Pinebrook
The beautiful Pinebrook community is tucked within the forested canyons of the northwestern part of Park City, and is home to many year-round residents. The area abounds with public and private trails, allowing residents prime recreational access. Close to the Interstate 80 on-ramp, Pinebrook is a favorite location for commuters. Properties in this area exhibit a wide range of prices, styles and square footage. Lower Pinebrook single family homes subdivisions include: Ecker Village, High Meadows at Pinebrook, and Horsethief. Middle Pinebrook consists of Boothill, Eagle Ridge and Ecker Hill subdivisions. Upper Pinebrook includes the upscale single-family homes and lots of the Pineridge and Sunridge subdivisions.
Condominiums include: Brook Hollow Village, Cedar Ridge, Courtyards at Quarry Village, Elk Run, Pine Creek, Pinebrook Cottages, Pinebrook Pointe and The Ranch. Area schools include: Jeremy Ranch Elementary (grades K-5), Ecker Hill Middle School (grades 6-7) and the Weilenmann School of Discovery charter school, which is located next to Gorgoza Park, between the Pinebrook and Summit Park neighborhoods.
Summit Park
A favorite of commuters, the Summit Park community is perched at the crest of Parley's Summit. This convenient location allows for quick access to the recreation and lifestyle amenities of Park City, as well as the Salt Lake Valley. Located next to the Pinebrook neighborhood and across the highway from Jeremy Ranch, Summit Park sits at 7000+ foot elevation, with heavily-wooded homesites where winter's snow often lingers into late spring. Originally a seasonal getaway, Summit Park has become a year-round mountainside community for residents looking for backcountry access, abundant wildlife and plentiful trails.
Jeremy Ranch
The Jeremy Ranch neighborhood is located on the north side of I-80, across from Pinebrook. Situated around a private, 18-hole golf course, Jeremy Ranch is mainly populated by primary homeowners. Many homes in Jeremy Ranch features prized views and plentiful sunlight as a result of its southern exposure. Single family home subdivisions include: The Back Nine, Creek View Estates, Hidden Cove, Jeremy Cove, Jeremy Point, Moose Hollow, South Ridge, Sunrise Hills and The Trails at Jeremy Ranch.
Condominiums and townhome subdivisions include: Canyon Links, Circle J Club, Jeremy Ranch Club, Jeremy Woods and The Overlook at Jeremy Ranch. Area schools include: Jeremy Ranch Elementary (grades K-5), Ecker Hill Middle School (grades 6-7) and the Weilenmann School of Discovery charter school, which is located next to Gorgoza Park, between the Pinebrook and Summit Park neighborhoods.
Glenwild / Silver Creek
The Silver Creek neighborhood sits within a spacious valley to the north of Park City. Properties within Silver Creek are generally large, many are zoned for horses and most area roads are unpaved for equestrian activities. Residents may conveniently access Silver Creek from the junction of Highway 40 and Interstate 80.
Located approximately five miles from Park City is the currently expanding Silver Creek Business Park. Well-situated for future growth, the commercial area consists of office and retail space.
The Glenwild community is a private, gated golf community situated within the rolling hills surrounding the Silver Creek area. Glenwild features some of the area's most luxurious homes with tremendous views of the Snyderville Basin and all three local ski areas. Recognized as "Best in Utah" by Golf Digest, Glenwild is a favorite of primary residents and second homeowners. The clubhouse includes a renowned restaurant, pro shop and excellent fitness facilities.
Positioned slightly upslope of Glenwild, Red Hawk and The Ranches at Red Hawk, Goshawk Ranch and The Preserve are developments that offer large multi-acre picturesque mountain estates and homesites that have expansive panoramic views of the ski resorts and the Glenwild golf community. These communities have extensive multi-use trail systems and certain homes and homesites are zoned for equestrian use.
Trailside Area
The Trailside area is composed of newly constructed homes. The neighborhoods of Trailside and Mountain Ranch Estates boast practical accessibility, lovely views of ski runs at Canyons Resort and larger lot sizes. Located across Highway 40 are the Sun Meadows and Silver Summit subdivisions, which are home to a growing number of Park City families. Homes in these neighborhoods are close to Trailside Elementary and offer convenient access to parks, recreational trails, Highway 40, I-80, Kimball Junction, Old Town and the recently expanded Silver Creek Business Park located just off of the Silver Summit exit.
Promontory
Promontory is a private, gated community near Park City that features more than 7,000 acres of recreational space for use by homeowners. There are two existing golf courses, Painted Valley – a Jack Nicklaus Signature Design – and the Pete Dye Canyon Course. The Equestrian Center houses a state-of-the-art arena with boarding stalls for owners' horses. The Promontory Ranch Club features a pool, tennis courts, a spa and a fitness facility. There are miles of private community trails for bikers, hikers, horseback riders and runners within the development.
Promontory also offers their members in-town and slopeside amenities. The residences at Promontory include large custom-built homes as well as smaller luxury cabins. Homesites with amazing views are available for those who wish to design and build their ideal mountain home.
Jordanelle
The Jordanelle area includes not only its namesake, the Jordanelle Reservoir, but also the developments that are clustered around its shores and throughout the surrounding hills. Depending on location, the various Jordanelle neighborhoods feature views of the reservoir's sparkling blue waters, farm fields of the Heber Valley or Deer Valley ski runs. Split between Wasatch and Summit counties, the Jordanelle area is home to a wide range of home styles and prices, from lakeview condominiums to luxurious single-family homes.

Featured Property
FULL ON, UNOBSTRUCTABLE VIEWS OF GOLF AND MOUNTAINS, Large lot (2.78 acres) located in much desired golf community of Tuhaye. Offering picturesque views of the surrounding mountains and the Signature Mark O'Meara championship golf course and the Kamas Valley. To the north and east you have views of...
More Info »
Offered at $1,250,000